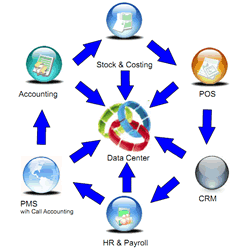 KingSmart Hotel Software - World Class and Full Featured Hospitality Management Systems.
KingSmart is a complete line of business management software products. The hotel software supports hospitality businesses by offering tools for marketing and daily operations as well as management and planning.
From Dos V1, HotelPro 2000, 3000 to KingSmart 5.0, 2003, 2005, Midas and now Genesis, KingSmart has become a fully integrated suite of software solutions consisting of modules and features that can be easily added or expanded, allowing effective and easy deployment from a smaller operation to a global, multi-branded hotel chain environment.
KingSmart
KingSmart PMS - Property Management Software

KingSmart Stock and Costing

KingSmart Human Resource and Payroll.
Solutions
KingSmart Point of Sale Software

with table and retail management.

KingSmart Accounting.

KingSmart Third Party Interfaces.